Happy February y'all!

I can't believe how fast this year is moving! But I am all for it because the faster the days go, the faster I get my little piece of the world back to normal.

I am getting so close to finishing Mended Mirrors and you guys... this story is seriously everything! Justin and Madison are lighting my laptop on fire and I am HERE for it!

If anyone is going to be at the Music City with the Belle's event on February 26th, I'll be there as a reader!! Feel free to let me know if you'll be there! I'd love to meet you!

But I also have some other big news to share too! I'm sure if you read the preview text, you know what I'm talking about!

Norma <3 
Smoke and Mirrors HAS A BRAND NEW COVER!
Exactly one year ago, I revealed the original cover for this book and while the feedback was great, it didn't match the aesthetic I was going for when it came to this series.
So to celebrate it's one year anniversary, I decided to have the cover redone with a new couple. This cover fits them so much better than I could have ever imagined! And as much as I love the original cover, I am just plain obsessed with the new one!
The story has stayed exactly the same, but the outside has a whole new look.
I do have a very limited amount of paperbacks with the original cover on hand for signed copies but once I'm out, that's all there are.
If you'd like to get your hands on a signed copy of the original cover, feel free to reach out to me directly!
Shattered Mirrors is LIVE and available for FREE on Kindle Unlimited.

Grab the first part of Justin and Madison's duet today to prepare for the finale to their story coming very soon!

Check out what early readers are saying... 


⭐️⭐️⭐️⭐️⭐️ "I ʜᴀᴠᴇ ғᴏᴜʀ ᴡᴏʀᴅs ғᴏʀ ʏᴏᴜ: Oɴᴇ ᴄʟɪᴄᴋ ᴛʜɪs ʙᴏᴏᴋ ɴᴏᴡ! Cʟɪғғʜᴀɴɢᴇʀ ʙᴇ ᴅᴀᴍɴᴇᴅ, ᴛʜɪs ʙᴏᴏᴋ ɪs ᴡᴏʀᴛʜ ɪᴛ!" - Tᴀʀᴀ, Gᴏᴏᴅʀᴇᴀᴅs
⭐️⭐️⭐️⭐️⭐️ "A ᴄᴏᴍᴘʟᴇᴛᴇ ᴇᴍᴏᴛɪᴏɴᴀʟ ʀᴏʟʟᴇʀᴄᴏᴀsᴛᴇʀ"
- Gɪʟʟɪᴀɴ, Gᴏᴏᴅʀᴇᴀᴅs
⭐️⭐️⭐️⭐️⭐️ "I 100% ʀᴇᴄᴏᴍᴍᴇɴᴅ ᴛʜɪs sᴛᴇᴀᴍʏ ᴅʀᴀᴍᴀ ꜰɪʟʟᴇᴅ ʙᴏᴏᴋ. Tʜɪs ʙᴏᴏᴋ ɪs ᴇxᴄɪᴛɪɴɢ ᴜɴᴛɪʟ ᴛʜᴇ ᴇɴᴅ." - Rᴏsᴇ, Gᴏᴏᴅʀᴇᴀᴅs
Grab your copy today!!!
📲: https://amzn.to/2W53kAs
I'm used to protecting myself. Always have, always will.
But he's the one person I can't protect my heart from.
When an internship partners me with the one man I can't stand but is every other girl's fantasy, I find out there's more to him than meets the eye. With his devilish good looks and piercing eyes, he's smashing through the wall I've erected around my heart.
Our lives couldn't be more opposite, but the more time I spend with him, the harder I fall. He says all the right things and shows me a world beyond work and school.
Everything is going great… until it's not. When my life falls apart around me, I do the one thing I've always done.
I run.
What happens when the mirror shatters and the pieces are scattered?
*Shattered Mirrors is part one of the Justin and Madison duet and does end in a cliffhanger. This must be read prior to reading Mended Mirrors.
Mirror Image got a facelift!
Not only did Smoke and Mirrors get a new cover, but I'm excited to announce that my freebie prequel also got a facelift to match the couple we've all come to love.
It's the same story, but now with a brand new cover.
If you'd like to have the new cover on your Kindle, be sure to click the download link below!
I have made such amazing friends in the author community and I am so excited to have a section of my newsletter dedicated to these amazing people who have come into my life!
Mina Cole put her book on SALE!!
𝐂𝐥𝐨𝐬𝐢𝐧𝐠 𝐨𝐧 𝐋𝐨𝐯𝐞 the first book in the Oak Springs series is available now for $0.99.
➜Get it here: 
http://mybook.to/ClosingonLove
𝙃𝙚'𝙨 𝙩𝙝𝙚 𝙤𝙣𝙚 𝙢𝙖𝙣 𝙨𝙝𝙚 𝙘𝙖𝙣'𝙩 𝙝𝙖𝙫𝙚. 𝙎𝙝𝙚'𝙨 𝙩𝙝𝙚 𝙤𝙣𝙚 𝙬𝙤𝙢𝙖𝙣 𝙝𝙚 𝙘𝙖𝙣'𝙩 𝙨𝙩𝙖𝙮 𝙖𝙬𝙖𝙮 𝙛𝙧𝙤𝙢.
Manipulated by her controlling ex into one last family gathering, Kate Miller's bad luck is just beginning. As if crashing her car and ending up in the arms of her ex's estranged and extremely sexy, younger brother wasn't bad enough, her boss has given her an ultimatum—push through a development deal with a stubborn small-town mayor or lose her job. Searching for a place to call home away from his status-loving family, Mayor Peter Bradbury found it in the small town he's come to love. A weekend spent with his family only makes him more grateful than ever for the escape he's found, no matter how distracting his brother's ex, Kate, might be. When she shows up representing the developer trying to change his beloved town, Peter is prepared to bury his growing feelings for her in order to save his town. Kate is certain she can convince Peter to see her company's vision for the town, while Peter is determined to prove to her that Oak Springs is perfect the way it is. But somewhere along the way, the line between business and pleasure blurs.
𝘞𝘪𝘭𝘭 𝘵𝘩𝘦𝘺 𝘤𝘰𝘯𝘵𝘪𝘯𝘶𝘦 𝘵𝘰 𝘥𝘦𝘯𝘺 𝘵𝘩𝘦𝘪𝘳 𝘧𝘦𝘦𝘭𝘪𝘯𝘨𝘴 𝘧𝘰𝘳 𝘰𝘯𝘦 𝘢𝘯𝘰𝘵𝘩𝘦𝘳, 𝘰𝘳 𝘨𝘪𝘷𝘦 𝘪𝘯 𝘢𝘯𝘥 𝘤𝘭𝘰𝘴𝘦 𝘵𝘩𝘦 𝘥𝘦𝘢𝘭 𝘰𝘯 𝘭𝘰𝘷𝘦?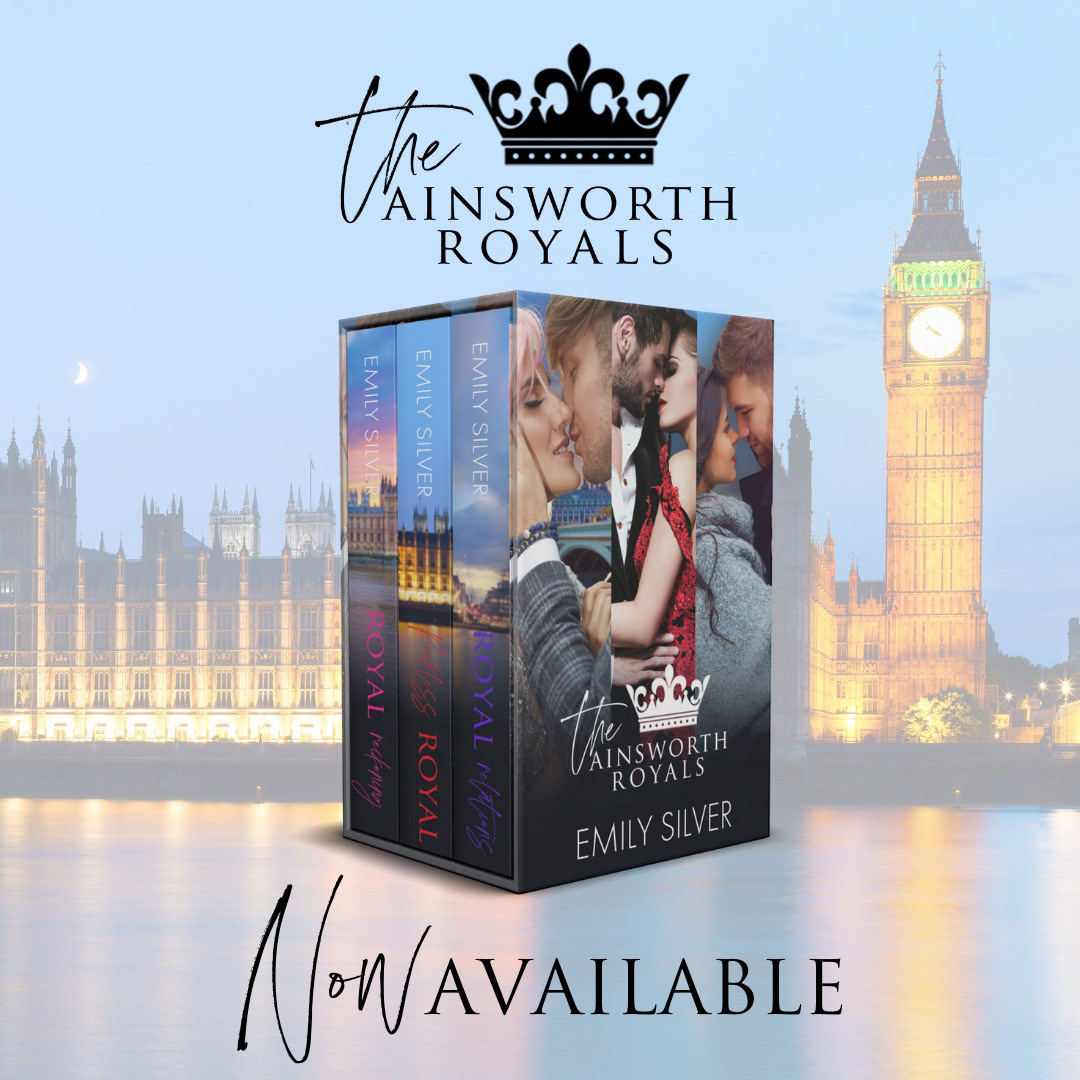 Emily Silver's Royals are now available in a box set!
The $0.99 price is for a limited time only, so be sure to grab it now before the price goes up!
 YOUR FAVORITE ROYALS...NOW IN BOXSET! 
The Ainsworth Royals Boxset is here and it's on sale for a limited time! Grab your favorite royals for $0.99 this week only! That's 3 full-length books for less than the price of one!
What do you get?
 Three full-length books, including Royal Reckoning, Reckless Royal and Royal Relations
 Royal Ties, a series novella
 A Very Royal Christmas short
 Brand new bonus content, including a Royal Tour of London!
Get it today:
https://amzn.to/3GGeGfT
Just when I didn't think Brittney Sahin could get any better!

I've been waiting for this story since Jesse was first introduced back in AJ's book (Stealth Ops Series), and it DID NOT DISAPPOINT!

If you haven't yet read any of Brittney Sahin, stop what you're doing and get over to Amazon and start the binge! The lost sleep will be more than worth it!

Ready to dive straight into the Broken One? Click the cover and grab it today, FREE on KU!

This series by Jamie Schlosser just keeps getting better and better!

This entire series is totally binge-worthy, so if you haven't yet given in to Jamie's Fae world, all I have to ask is... WHAT ARE YOU WAITING FOR??

Start the Series with Between Dawn and Dusk. I promise it's worth it!

Ready to dive straight into The Fae Warrior's Princess? Click the cover and grab it today, FREE on KU!

Until next time,


Happy Reading!