It's MARCH!

I'm in shock y'all.

First of all, this year is passing pretty quickly compared to last year. And I am so thankful for that because the quicker it goes, the faster things get back to some semblance of normal around here. But then again, what is normal anymore?

I'm also in shock because tomorrow marks 1 year since I published my debut novel. This entire ride has been CRAZY and I am so thankful for each and every one of you. Thank you for joining me on this journey, for loving my books, and for making this feel like it's so much more than a job.

Now on to the good stuff!

SMOKE AND MIRRORS IS FREE!
Tomorrow marks 1 year since Smoke and Mirrors officially went live.
I never imagined this happening. When I started writing, it was a means to release everything. It was my escape from the crazy that was my life with my husband being deployed. I never actually believed I'd publish.
And here I am... and it's amazing! Thank YOU for loving Lucas and Natalie!
So to celebrate it's one year anniversary, you can now grab Smoke and Mirrors for FREE on Amazon for a limited time. This sale is only live for this weekend, so grab it now before it goes back to regular pricing!
Grab your FREE copy here today!
Mended Mirrors is ALMOST HERE!
The much anticipated conclusion to Justin and Madison's story will be here very soon!
I am SOO close to writing those magical two words that I can taste it! Once I do, it will be off to the editor!
I don't have a release date yet, but I promise you'll be the first to know as soon as I do!
As soon as a release date is announced, I'll also be opening up ARC opportunities, so be sure to keep your eyes peeled!
Never want to miss an ARC from me? Sign up on 
Master List
 today!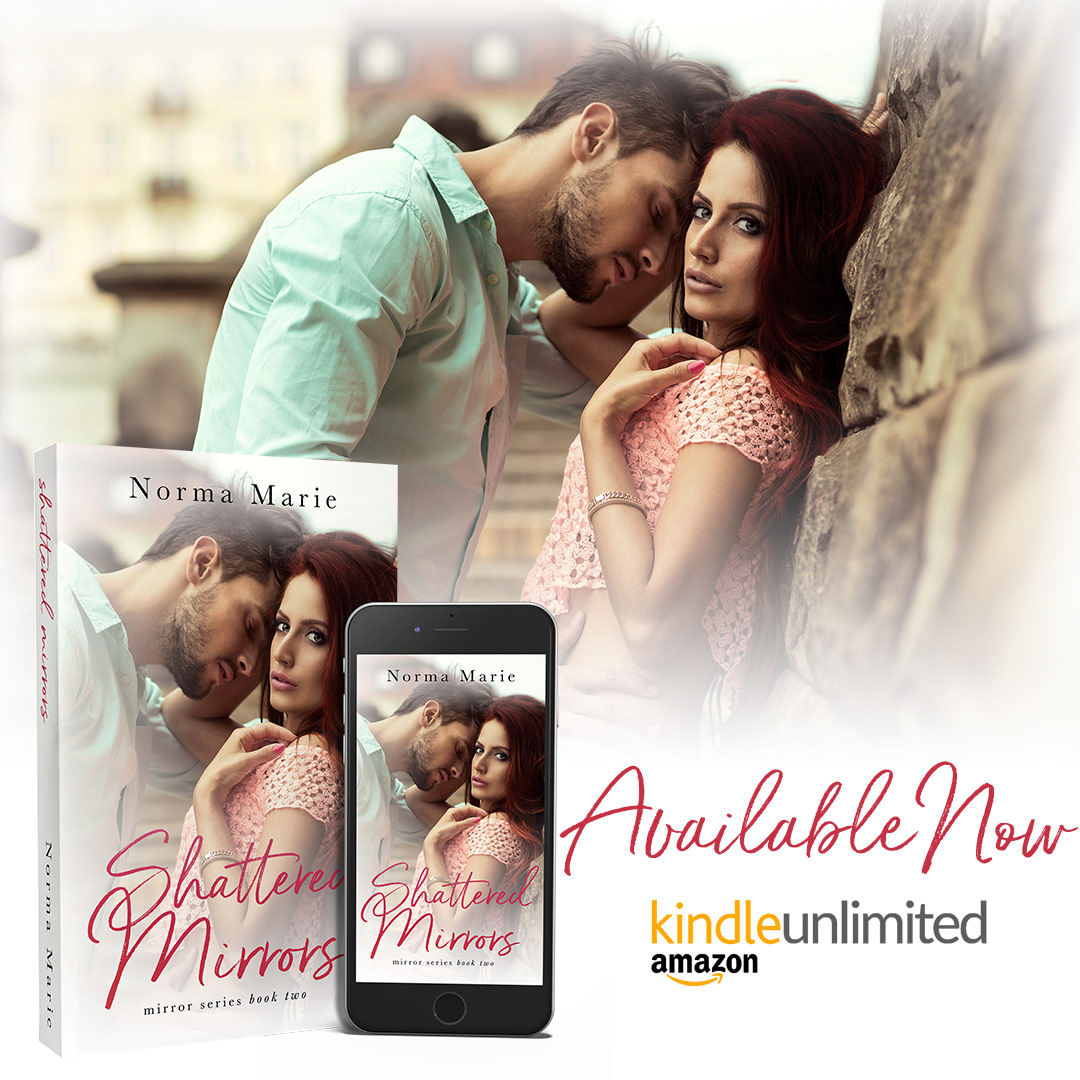 Shattered Mirrors is LIVE!
Grab the first part of Justin and Madison's duet today to prepare for the finale to their story coming very soon!

Check out what early readers are saying... 

⭐️⭐️⭐️⭐️⭐️ "I ʜᴀᴠᴇ ғᴏᴜʀ ᴡᴏʀᴅs ғᴏʀ ʏᴏᴜ: Oɴᴇ ᴄʟɪᴄᴋ ᴛʜɪs ʙᴏᴏᴋ ɴᴏᴡ! Cʟɪғғʜᴀɴɢᴇʀ ʙᴇ ᴅᴀᴍɴᴇᴅ, ᴛʜɪs ʙᴏᴏᴋ ɪs ᴡᴏʀᴛʜ ɪᴛ!" - Tᴀʀᴀ, Gᴏᴏᴅʀᴇᴀᴅs
⭐️⭐️⭐️⭐️⭐️ "A ᴄᴏᴍᴘʟᴇᴛᴇ ᴇᴍᴏᴛɪᴏɴᴀʟ ʀᴏʟʟᴇʀᴄᴏᴀsᴛᴇʀ"
- Gɪʟʟɪᴀɴ, Gᴏᴏᴅʀᴇᴀᴅs

⭐️⭐️⭐️⭐️⭐️ "I 100% ʀᴇᴄᴏᴍᴍᴇɴᴅ ᴛʜɪs sᴛᴇᴀᴍʏ ᴅʀᴀᴍᴀ ꜰɪʟʟᴇᴅ ʙᴏᴏᴋ. Tʜɪs ʙᴏᴏᴋ ɪs ᴇxᴄɪᴛɪɴɢ ᴜɴᴛɪʟ ᴛʜᴇ ᴇɴᴅ." - Rᴏsᴇ, Gᴏᴏᴅʀᴇᴀᴅs



Grab your copy today!!!
📲: https://amzn.to/2W53kAs
I'm used to protecting myself. Always have, always will.
But he's the one person I can't protect my heart from.
When an internship partners me with the one man I can't stand but is every other girl's fantasy, I find out there's more to him than meets the eye. With his devilish good looks and piercing eyes, he's smashing through the wall I've erected around my heart.
Our lives couldn't be more opposite, but the more time I spend with him, the harder I fall. He says all the right things and shows me a world beyond work and school.
Everything is going great… until it's not. When my life falls apart around me, I do the one thing I've always done.
I run.
What happens when the mirror shatters and the pieces are scattered?
*Shattered Mirrors is part one of the Justin and Madison duet and does end in a cliffhanger. This must be read prior to reading Mended Mirrors.
Have you seen my FREEBIES?
I have made such amazing friends in the author community and I am so excited to have a section of my newsletter dedicated to these amazing people who have come into my life!
From USA Today Bestselling Author Heather M. Orgeron comes an unputdownable friends-to-lovers/(surprise) single dad romance with a delicious rockstar twist! 
BLURB: 
They say to never meet your heroes… but what's the rule on falling in love with them?
Raven Winters has been infatuated with Nicholas Potter since the day she tacked his poster to her bedroom wall. So, when she discovered the famous drummer was her college roommate's cousin, it seemed the stars had aligned.
Their attraction was instant, and their chemistry explosive. Unfortunately, Nick wasn't ready to abandon his rock star lifestyle.
Over the years, she's become his best friend—with benefits—and favorite source of telephonic relief when the groupies backstage weren't quite what he was looking for. Those late-night drunken calls kept her holding onto hope.
But all that patience is about to pay off—why else would he invite her to join him on tour, if not to finally confess his feelings?
Too bad, the universe has other plans. It looks like drummer boy's reckless lifestyle has finally caught up to him—and Raven's the one stuck toting the diaper bag.
LK Farlow has released Sweet Little Nothing on AUDIO!
Listen now, as narrators Gregory Salinas & Charlotte Claremont bring Sterling and Emmy to life!
https://geni.us/sln-audio
Bonus, if you already own the eBook, you can Whispersync the audio for only $7.49! 
J Akridge has a new release!
Fighting for love is hard, fighting against it is even harder. 
Lou
I thought Declan Sanchez was supposed to be my forever, love just wasn't enough for us. He left, and my life was crumbling around me.
Moving on from him wasn't easy, but as the years passed it got easier.
So, when he walks back into my life, it feels like I am drowning all over again.
Declan
I didn't want to let her go, but I had to. She deserved a life that I couldn't give her. A life where she wasn't waiting around to see if I'd survive another day in the military.
But after seeing her again, I'm determined to make her mine. I just have to prove that I'll stay.
And that's a promise I can't keep.
Have a book that you think I'd like? Let me know! I love to build my reading list. Just tap the book covers to be directed straight to the book for easy one-clicking!

Below, you'll find books that I've read - both past and present - that I recommend. Not all of these can be found on KU, but I'll be sure to notate which ones are and aren't.

KK Allen has delivered a book that will destroy you in all the best ways.

If you're looking for a book that will tear your heart out and then put it back together again, this is the book you need to read!

Grab it today on KU! Click the cover above to grab your copy!

Just when I think this series couldn't get any better, Claire said HOLD MY BEER and DELIVERED!

Star crossed lovers have met their match in this much anticipated final book of the Bailey Brothers.

This series must be read in order so if you haven't yet started, I highly suggest you start with Protecting You and working your way through. I promise the lost sleep will be SO worth it!

Click the cover above to grab your copy today! Free on KU!

Until next time,


Happy Reading!